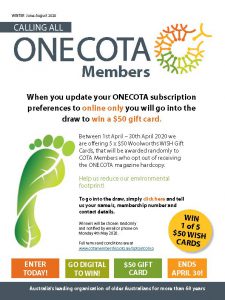 Update your ONECOTA subscription to online only
and you will go into the draw to win a $50 Woolworths Wish Giftcard*
*Terms & Conditions
1. The offer is for COTA members ONLY.
2. This offer applies to COTA members that change their ONECOTA subscription to ONLINE ONLY between 1st – 30th April 2020 ONLY.
3. To go into the draw you must email COTA Membership on info@cotamembership.org.au with your name/s, membership number and contact details.
4. You can also enter by phoning COTA Membership on 1300 1400 50 and advising the above details.
5. Only one entry per membership or joint membership is allowed.
6. Winner will be chosen randomly and notified by email or phone on Monday 4th May 2020.
7. Winners will be sent their WISH Gift card in the mail or via email with an online gift card.
9. COTA Insurance reserve the right to amend or withdraw this offer at any time.