Paid Member Benefits
As the peak body representing older Australians, we'll promote your interests & views, help improve your health and wellbeing and regularly seek your views.
You'll also enjoy a sense of belonging through our programs and events. Plus, as a thank you for your support you will also receive access to the COTA Rewards and Savings Program.
Existing COTA Memberships get access to the following benefits.
For all new membership enquiries, please click here to contact your local COTA State office to hear about the changes in your state.
COTA Rewards and Savings Program
As a thank you for your support you will also receive access to the COTA Rewards and Savings Program.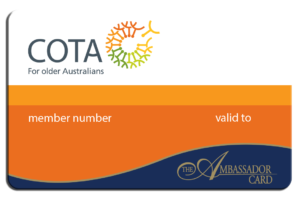 This includes the Ambassador Card – Australia's premier member benefit program, valued at $199. The Ambassador Card offers:
2 for 1 meal offers at restaurants, cafes and take-away outlets all over Australia.

most dining offers are for one complimentary main course. When two main courses are ordered, the least expensive meal will be deducted from the bill
if the discount is a set dollar amount, this will be deducted from the bill
there is a limit of two COTA Membership/Ambassador Cards per booking. Joint members may only use one card per booking (as they have the same membership number)
When given the bill, present your COTA Membership/Ambassador Card to the waiter
there are no limits to using the card, go back to your favourite places over and over. Simply show the card – no need to remember to take a voucher to redeem the savings

Up to 10% off pre-purchased gift cards to save on groceries, liquor, petrol and electronics at Coles, Woolworths and Good Guys outlets.
A Wine Club – offering great discounts on quality wines
Incredible savings on retail shopping, leisure outlets & activities, entertainment, movies, and lots more!
Visit the Ambassador Card website to see all that The Ambassador Card has to offer. Use the various search functions to find exactly what you're looking for and the savings offered.
ONECOTA - Our Members Magazine
As a member you'll receive our members' magazine, ONECOTA mailed directly to your door, included with your membership.
Read information about:
COTA's latest policy and advocacy work nationally in your state
Events, programs, workshops and information sessions
The results of members' feedback and opinions
New surveys and research
Competitions and giveaways
How to improve your lifestyle and well being
Existing and new member benefits
What's happening in every COTA around Australia
Insurance
COTA Insurance – for all your travel, landlords, building, contents, caravan and car insurance needs, designed specifically for our members If you are over 50, COTA Insurance can offer great deals and substantial savings no matter what type of insurance you need.
With a comprehensive range of insurance products including Home Building and Contents, Motor Vehicle, Travel, Caravan & Trailer and Landlord Insurance, we've got all your insurance needs covered.
COTA members are also guaranteed a renewal invitation, regardless of your age or claims history (excluding travel).
With COTA Insurance you'll also experience first class service, policy excesses to suit your needs and flexible payment options including a choice of annual or monthly payments with no additional policy fee*.
Call COTA now on 1300 1300 50. The fast and easy way to save with COTA Insurance! (local call charges apply. Higher rates apply for mobile phones.)